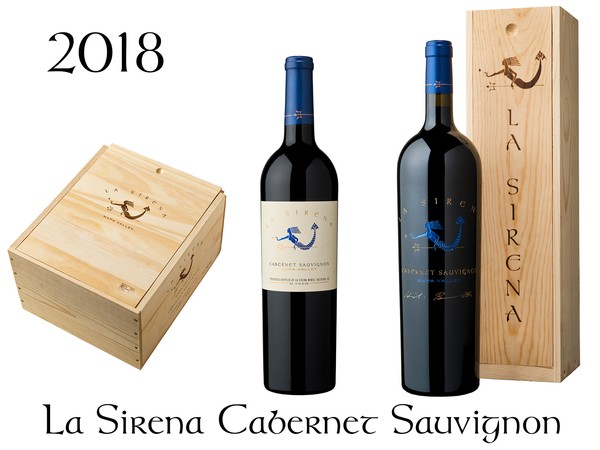 2018 La Sirena Napa Valley Cabernet Sauvignon is available now! Since the first La Sirena Cab vintage in 1996, it has been a Napa Valley favorite, and an expression of Heidi's powerful-yet-balanced, elegant style of winemaking. 2018 was a highly acclaimed vintage, and we're pleased to share the long-awaited result with you.
From Heidi's tasting notes: "...Pronounced aromatics of dark berries and black cherry, and nuances of candied nuts, dried savory herbs, wet gravel, cedar and vanilla. Across the palate, flavors match the aromas in a velvety and mouthcoating profile with remarkable power and noteworthy finesse. Dense and concentrated flavors with refined tannins, chewy texture, and a lengthy evolving finish will make this an exciting addition to your cellar for many years to come."
2 new wines are now available: 2018 Malbec and 2017 Pirate TreasuRed. La Sirena Malbec is a velvety, full-bodied expression of this varietal, which is less commonly grown in Napa/Sonoma and usually used in blends - here, it gets to shine on its own. Pirate TreasuRed is our fan-favorite, proprietary blend of several different red varietals that is not only delicious, but tons of fun at parties and gatherings (and perfect for Halloween, too!)
Shop these wines in the store & find tasting notes on the Resources page
Harvest 2021 is in the books, and we couldn't be more excited for all the new wines tucked away into the cellar this season. A hot growing climate led to an early harvest start (Aug 21 was our first day of crush), while ongoing drought conditions did affect our yields somewhat, but also produced wonderfully concentrated flavors and should result in some spectacular wines from the vintage. We wrapped up on October 11th with our last batch of grapes, and now the work of fermentation and barrel aging continues. The first releases from 2021 are expected to release in early 2022, so be sure to pick those up when they become available!