Two new wines are now available: 2021 Moscato Azul & 2021 Rosato. These wines are ready to brighten your day as we head toward Spring! We look forward to sharing them with you.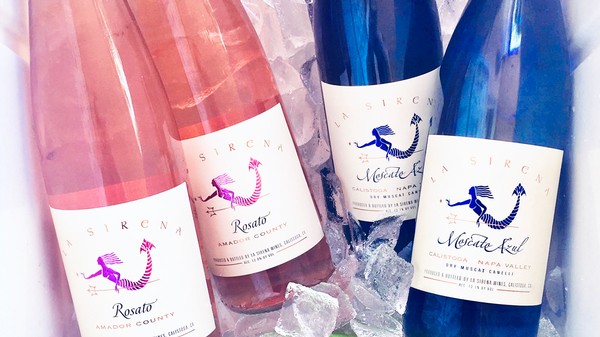 2021 Moscato Azul - A gorgeous expression of this delightful, unusual white wine. All the tropical, floral, perfumed characteristics of the Muscat Canelli grape shine, while the crisp acidity and dry finish render it highly quaffable & wonderful for food pairings.
Tasting Notes: (tasted 1/29/22 by HPB)
Our 2021 dry-style Muscat Canelli is a crisp white wine that is highly aromatic with beguiling tropical and floral notes. Pale straw in color with perfumey aromas of lychee, honeysuckle, white peach, and honeydew melon. Flavors match the aromas in a mouthfilling, lush profile. Silky, balanced and unique, this wine pairs so well with a variety of foods and is perfect poolside or while cooking dinner.
Full tech sheet - Bottle shot - Purchase link
***
2021 Rosato - Our unusual rosé of Primitivo. A fun-to-drink, easy-to-love blush wine that's loaded with fresh flavor and a beautiful bright color. A balanced, crisp, medium-weight rosé equally suited to pairing with food or sipping on its own. We especially love it with sushi, shrimp dumplings, poke bowls, or colorful vegetable salads with a citrus dressing.
Tasting Notes: 2021 Rosato (tasted 1/29/2022 by HPB)
The 2021 Rosato is made from Primitivo grapes sourced from Amador county in the foothills of California. The color is a lovely, soft rose petal pink, with fresh fruity aromas of strawberries, delicate flowers and canteloupe. Bright, mouthwatering acidity is enticing with clean flavors to match the aromatics. Very well balanced and perfect for spring & year-round sipping!