Two new wines are now available: 2019 Studio Series & 2018 Barrett Vineyard Syrah. These rich, elegant red wines are tasting amazing, and we look forward to sharing them with you!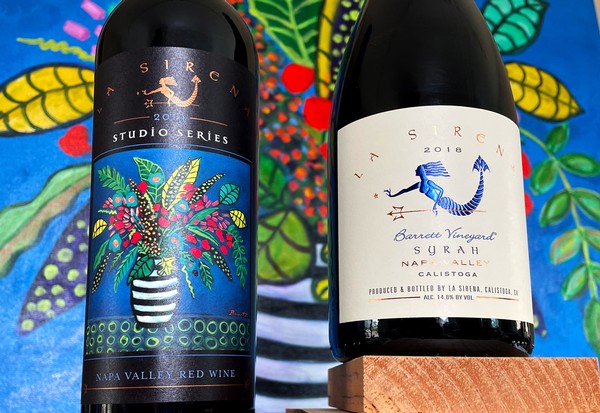 2019 Studio Series - In addition to being a winemaker, I have also been a painter and visual artist for many years. Studio Series is a Cab-forward winemaker blend that features a different painting of mine on the label each vintage. For 2019, I selected my vibrant floral painting "Beetlejuice Bouquet #2", a work that is bursting with color and life! I'm proud to offer this unique wine that shows off my creative work both inside and outside of the bottle. Our 2017 and 2018 Studio Series are still available if you'd like to collect them all.
From Heidi's Tasting Notes: "The aromas show expressive fruit characteristics of Cab and Syrah – berry, cherry and plum with nuances of French oak, blueberry, garden herbs, and tea leaves. The flavors are mouthcoating, vibrant, and lively. The fruit character of the aromas carries through in the flavors. Very streamlined silky tannins and mouthfeel across the palate."
​Purchase - Tech sheet - Bottle shot
***
2018 Barrett Vineyard Syrah - We're excited to bring back this delicious cult-favorite wine. Syrah has been a big part of our brand since we first produced it in 2000, and we have been through many iterations and vineyard sources over the years. We grow 2 acres of Estate Syrah at our property in Calistoga, and in the 2018 vintage, it was just so incredibly delicious that I had to give it its own bottling once again! The last vintage of 100% Barrett Syrah before this was all the way back in 2007. We are delighted to welcome back this very special wine for a limited bottling of just 135 cases, and hope you love it as much as we do!
From Heidi's Tasting Notes: "...aromas of ripe black plums, bacon, blackberry jam, BBQ sauce, and black tea. Dense, chewy and ripe across the palate with a nice mid-palate texture and weight. Rich, structured, and complex, with a long evolving finish. This vintage produced a delicious Syrah that we decided to bottle on its own, unblended, to show how delicious and special Syrah can be flying solo."