The third in our recipe pairing series by Chef Christina Machamer - these wild boar shanks are tender, hearty and have amazing depth of flavor - perfect for pairing with our La Sirena Cab! For best results, make them a day ahead and allow plenty of time for cooking.

Cabernet Braised Wild Boar Shank
Pair with 2019 La Sirena Cabernet Sauvignon
NOTE: Wild boar can be sourced here. Bone in beef short ribs can also be substituted for this recipe. Both wild boar shank and beef short ribs are best when refrigerated for a day or 2 after cooking, so that the flavors have time to fully integrate.
Ingredients
 2ea bone-in wild boar shank (see note)
 Kosher salt and freshly ground black pepper
 3T Canola oil
 1 Large onion, chopped
 2 medium carrots, peeled, chopped
 2 celery stalks, chopped
 3T flour
 1 28 oz can crushed tomatoes (we like San Marzano brand)
 2T tomato paste
 375 ml (1/2 bottle) dry red wine (preferably Cabernet Sauvignon)
 10 sprigs flat-leaf parsley
 8 sprigs thyme
 2 fresh or dried bay leaves
 1 head of garlic, halved crosswise
 4C Chicken Stock
Method
1. Preheat oven to 350°. Season boar shanks with salt and pepper.
2. Heat oil in a large Dutch oven over medium-high heat. Brown boar shank on all sides,
approximately 8 minutes total. Transfer boar shank to a plate.
3. Pour off all but 3 Tbsp. drippings from pot. Add onions, carrots, and celery to pot and cook
over medium-high heat, stirring often, until onions are browned, about 5 minutes.
4. Add flour and tomato paste; cook, stirring constantly, until well combined and deep red, 2-3
minutes.
5. Stir in wine and reduce the volume by half, add crushed tomatoes. Add boar shank with any
accumulated juices.
6. Add all herbs to pot along with garlic. Stir in stock. Bring to a boil, cover, and transfer to
oven.
7. Cook until boar shanks are tender, 2–2½ hours. For best results, allow to come to room
temperature and store in refrigerator overnight. Transfer shanks to a platter. Spoon fat from
surface of sauce and discard; season sauce to taste with salt and pepper. Strain sauce from
pot into a measuring cup. Serve in shallow bowls over your favorite puree and roasted
fall/winter veggies with sauce spooned over.
Recipe and photo © Christina Machamer - do not copy or reproduce without permission.
Downloadable/printable recipe card
Two new wines are available now: 2021 La Sirena Chardonnay & 2020 Aviatrix Cabernet Sauvignon. Our Chardonnay is a bright, elegant, and complex expression of the grape that is food friendly and simply delicious. The brand-new Aviatrix Cabernet Sauvignon is totally different than any Cab we've made before - with fruit from Santa Barbara's Happy Canyon region, it's juicy and fruit-forward, lighter in style yet still quite full-bodied. We hope you love these as much as we do!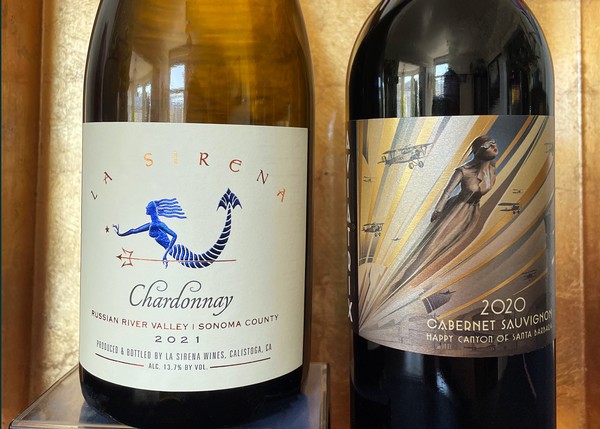 2021 La Sirena Chardonnay - Tasting Notes: "Brilliant light golden straw in color with gorgeous fruit aromas of crisp pear, pineapple, delicate melon, a whiff of green apple and citrus, with nice minerality and complementary notes of caramel, beeswax, and a kiss of vanilla. A very light touch of of toasty French oak enhances the aromatics and fruit flavors across the palate. The mouthfeel, texture and flavor profile is just delicious, with nicely balanced acidity and richness that lingers in an extraordinary finish."
Sourced from the original 1969 planting of the Rued clone of Chardonnay, known for its somewhat tropical aromatics (some even refer to it as the Muscat clone of Chardonnay), and blended with fruit from the Bacigalupi Paris Block, one of the sources for the Chateau Montelena 1973 Chardonnay that won the Paris Tasting. 225 cases produced
Purchase - Tech sheet - Bottle shot
2020 Aviatrix Cabernet Sauvignon - Tasting Notes: "Deep ruby in color, this Cab opens with strong juicy fruit aromas of wild berry, black cherry juice, and ripe black plums, with lovely vanilla notes and a touch of pink peppercorn... It's full-bodied in flavor and power, but has soft, streamlined tannin and a silky, light feel on the palate, very atypical for a Cab Sauv. An intriguing, evolving finish will give you lots to think about as you savor this deliciously unusual expression of Cab."
93% Cab Sauv from Happy Canyon of Santa Barbara AVA + 5% Petite Sirah + 2% Cab Franc - 190 cases produced
​Purchase - Tech sheet ​- Bottle shot