October 6, 2023 | La Sirena Winery
New Releases: 2021 Chardonnay & 2020 Aviatrix Cab
Two new wines are available now: 2021 La Sirena Chardonnay & 2020 Aviatrix Cabernet Sauvignon. Our Chardonnay is a bright, elegant, and complex expression of the grape that is food friendly and simply delicious. The brand-new Aviatrix Cabernet Sauvignon is totally different than any Cab we've made before - with fruit from Santa Barbara's Happy Canyon region, it's juicy and fruit-forward, lighter in style yet still quite full-bodied. We hope you love these as much as we do!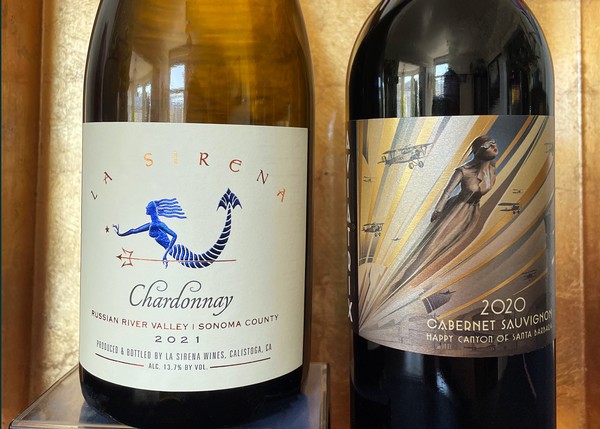 2021 La Sirena Chardonnay - Tasting Notes: "Brilliant light golden straw in color with gorgeous fruit aromas of crisp pear, pineapple, delicate melon, a whiff of green apple and citrus, with nice minerality and complementary notes of caramel, beeswax, and a kiss of vanilla. A very light touch of of toasty French oak enhances the aromatics and fruit flavors across the palate. The mouthfeel, texture and flavor profile is just delicious, with nicely balanced acidity and richness that lingers in an extraordinary finish."
Sourced from the original 1969 planting of the Rued clone of Chardonnay, known for its somewhat tropical aromatics (some even refer to it as the Muscat clone of Chardonnay), and blended with fruit from the Bacigalupi Paris Block, one of the sources for the Chateau Montelena 1973 Chardonnay that won the Paris Tasting. 225 cases produced
Purchase - Tech sheet - Bottle shot
2020 Aviatrix Cabernet Sauvignon - Tasting Notes: "Deep ruby in color, this Cab opens with strong juicy fruit aromas of wild berry, black cherry juice, and ripe black plums, with lovely vanilla notes and a touch of pink peppercorn... It's full-bodied in flavor and power, but has soft, streamlined tannin and a silky, light feel on the palate, very atypical for a Cab Sauv. An intriguing, evolving finish will give you lots to think about as you savor this deliciously unusual expression of Cab."
93% Cab Sauv from Happy Canyon of Santa Barbara AVA + 5% Petite Sirah + 2% Cab Franc - 190 cases produced
​Purchase - Tech sheet ​- Bottle shot
Comments
Commenting has been turned off.