The second in our recipe pairing series by Chef Christina Machamer - these ribs are bursting with complex, inviting flavor, and perfect for pairing with our Pirate TreasuRed! For best results, make them a day ahead and allow plenty of time for slow cooking.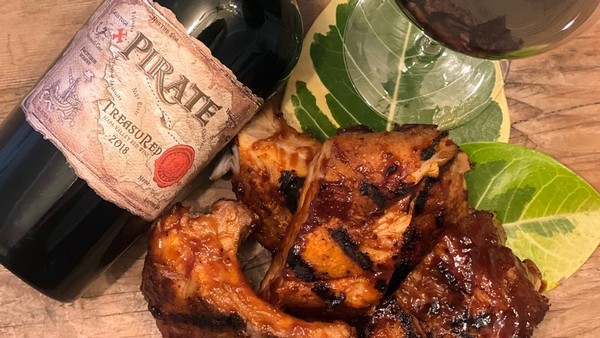 7-Spice Baby Back Ribs
Pair with 2018 La Sirena Pirate TreasuRed

Summer (into early Fall) is BBQ season, and there is nothing better than the melding of smokey and sweet flavors and a wine with the complexity to match. Pirate TreasuRed, a symphony of seven varietals, sings with this 7-Spice rub paired with "fall off the bone" ribs. The recipe below is for one rack of ribs, but I recommend making a large batch, so you always have some on hand. Ribs can be made ahead of time and frozen for up to two months, so you can enjoy their richness all summer long and beyond!
7-SPICE RIB RUB
.25C Brown Sugar
2t Smoked Paprika
1t Garlic Powder
1t Onion Powder
3t Ground Mustard
1t Garlic Salt
1t Celery Salt
.25t Cayenne
To taste - Kosher Salt & Fresh Ground Black Pepper
METHOD
1. Preheat oven to 265 degrees.
2. Remove Baby Back ribs from packaging and pat dry with a paper towel. Generously rub both
sides with 7-Spice rub and season to taste with kosher salt and fresh ground black pepper.
3. Wrap the ribs - you can use just foil, or if you want to try a method chefs love, tightly wrap ribs in plastic wrap then aluminum foil. Don't worry, plastic will not melt at this low oven temperature and will allow ribs to oven-braise in their own juices! But if it makes you uneasy to put plastic in the oven, feel free to use parchment paper and then foil, or just foil.
4. Place ribs on a baking sheet in a single layer, bone-side down. Bake in oven for 5 hours or until
ribs are very tender.
5. Remove ribs from oven and allow to come to room temperature before refrigerating overnight.
This allows the fat and juices to congeal and makes them easier to handle and portion.
6. Unwrap ribs and remove any congealed fat and juices. Portion into 2-3 rib segments and lather
with your favorite BBQ sauce. Re-heat ribs by grilling on both sides until warm throughout or in a
350 degree oven for approximately 15 minutes.
Recipe and photo © Christina Machamer - do not copy or reproduce without permission.
Downloadable/printable recipe card
Purchase La Sirena Pirate TreasuRed
Our new 2020 Aviatrix Grenache is available now - A wonderful light-medium weight red that is quite versatile with food pairings, and can be served at room temp or even slightly chilled to enjoy during the late summer heat. We hope you love it as much as we do!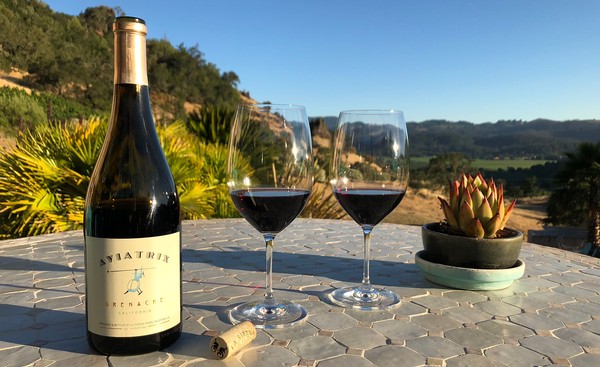 2020 Aviatrix Grenache - Grenache has been our signature wine for Aviatrix since the brand launched in 2016. We have produced Grenache from a variety of different vineyard sites over the years, always searching for the best quality fruit while still keeping our elegant, light-medium weight style in mind. In 2020, Santa Ynez was one of the only areas in California that was not affected by smoke taint from the wildfires that year – we were thrilled to get this beautiful fruit and be able to produce a 2020 vintage of Aviatrix Grenache.
From Heidi's Tasting Notes: "Light ruby in color, this Grenache opens with bright aromas of cherry, cranberry, and red plums, with nuances of cedar and a touch of sweet tobacco leaf. On the palate, it's energetic, lush and juicy, bursting with flavor that hints at Campari and cherry tart. With silky texture, nice balance and good length, Aviatrix Grenache is versatile and easy to love..."
Purchase - Tech sheet - Bottle shot
Find more at Aviatrix-wine.com!
The first in our new recipe pairing series created by Chef Christina Machamer - this colorful and flavorful summer soup is easy to make and perfect to pair with our La Sirena Rosato!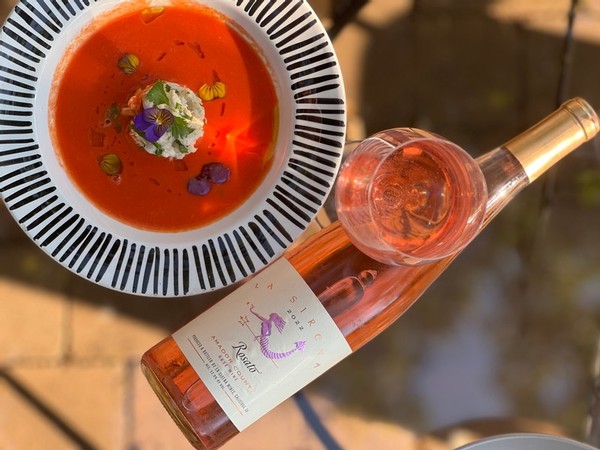 Chilled Thai Watermelon Soup with Dungeness Crab Salad
Pair with 2022 La Sirena Rosato
One of my favorite wines to drink all year round, but especially in summer when the crisp, lively
palette of the wine matches the celebrations of summer and the excitement of melons ripening in
the garden. With notes of rose petal and ripe red fruits, this deep blush rosado is driven by its
elegantly integrated acid allowing playfulness with chili, citrus, and Asian notes. This soup
transforms the sweetness of summer watermelon into a more savory and complex soup perfect to
start a summer meal. I like to make it a day ahead to allow the flavors in the soup to develop and
integrate overnight.
INGREDIENTS
6C Watermelon, Cubed (approx half of one small-medium seedless watermelon)
1 Lemongrass Stalk, lower 4in chopped
2Tbsp Shallot, roughly chopped
2Tbsp Fresh Ginger, peeled and chopped
1.5tsp Garlic Salt
1Tbsp Olive Oil
1 Serrano Chili
4Tbsp Fresh Lime Juice
Diamond Crystals Kosher Salt to taste
CRAB SALAD
12oz Dungeness Crab Meat
.25C Cilantro, Chopped
1tsp Olive Oil
1tsp Lime Juice, to taste
1.5Tbsp Mayonnaise*
.5tsp Garlic Salt
METHOD
1. Puree the watermelon in a blender until smooth and set aside.
2. In a small food processor, pulse lemongrass, shallot, and ginger until finely chopped.
3. Heat a small sauce pan over medium-high heat, add olive oil, shallot, lemongrass, and ginger, and
sauté until the aromatics become soft and fragrant.
4. Add half of the watermelon puree to the pan, and simmer for 5 min, stirring occasionally.
5. Add reserved watermelon puree and simmered watermelon mixture back into the blender with
garlic salt, Kosher salt, half of the chili and 2T Lime Juice. Blend to mix and adjust the flavor of the
soup with more Lime juice, Chili, and/or Salt as desired.
6. Strain the soup through a fine mesh sieve, discarding any solids. Chill for at least 3 hours or place
in an airtight container in the fridge to chill overnight.
7. Mix all ingredients for the crab salad together and adjust the flavor as desired. Divide salad
among four bowls and pour in chilled soup. Garnish with edible flowers or cilantro leaves as
desired.
*NOTE: I love the rich tanginess of Duke's mayonnaise in almost all of my recipes, but for this crab
salad, it can be fun to substitute a Japanese, Jalapeño, or Sriracha mayo to subtly lift the flavor.
Recipe and photo © Christina Machamer - do not copy or reproduce without permission.
Downloadable/printable recipe card
Two new wines are now available: 2019 Studio Series & 2018 Barrett Vineyard Syrah. These rich, elegant red wines are tasting amazing, and we look forward to sharing them with you!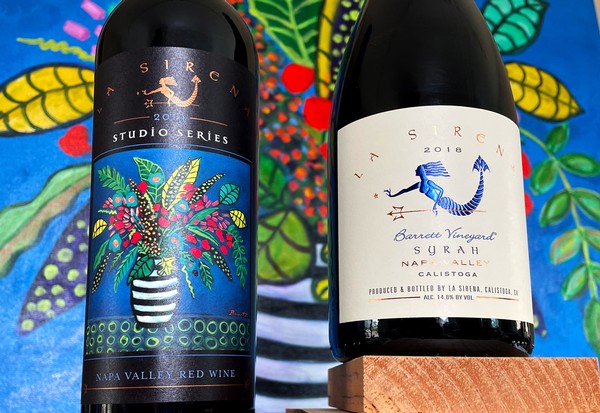 2019 Studio Series - In addition to being a winemaker, I have also been a painter and visual artist for many years. Studio Series is a Cab-forward winemaker blend that features a different painting of mine on the label each vintage. For 2019, I selected my vibrant floral painting "Beetlejuice Bouquet #2", a work that is bursting with color and life! I'm proud to offer this unique wine that shows off my creative work both inside and outside of the bottle. Our 2017 and 2018 Studio Series are still available if you'd like to collect them all.
From Heidi's Tasting Notes: "The aromas show expressive fruit characteristics of Cab and Syrah – berry, cherry and plum with nuances of French oak, blueberry, garden herbs, and tea leaves. The flavors are mouthcoating, vibrant, and lively. The fruit character of the aromas carries through in the flavors. Very streamlined silky tannins and mouthfeel across the palate."
​Purchase - Tech sheet - Bottle shot
***
2018 Barrett Vineyard Syrah - We're excited to bring back this delicious cult-favorite wine. Syrah has been a big part of our brand since we first produced it in 2000, and we have been through many iterations and vineyard sources over the years. We grow 2 acres of Estate Syrah at our property in Calistoga, and in the 2018 vintage, it was just so incredibly delicious that I had to give it its own bottling once again! The last vintage of 100% Barrett Syrah before this was all the way back in 2007. We are delighted to welcome back this very special wine for a limited bottling of just 135 cases, and hope you love it as much as we do!
From Heidi's Tasting Notes: "...aromas of ripe black plums, bacon, blackberry jam, BBQ sauce, and black tea. Dense, chewy and ripe across the palate with a nice mid-palate texture and weight. Rich, structured, and complex, with a long evolving finish. This vintage produced a delicious Syrah that we decided to bottle on its own, unblended, to show how delicious and special Syrah can be flying solo."
Two new wines are now available: 2022 Rosato & 2019 Malbec. These delicious wines are ready to please your palate and add some pizzazz to your cellar.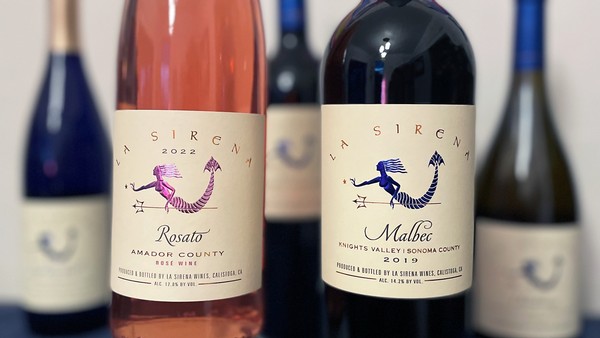 2022 Rosato - Our unusual rosé of Primitivo. A fun-to-drink, easy-to-love blush wine that's loaded with fresh flavor and a beautiful bright color. A balanced, crisp, medium-weight rosé equally suited to pairing with food or sipping on its own. We especially love it with sushi, shrimp dumplings, poke bowls, or colorful vegetable salads with a citrus dressing.
From Heidi & Remi's Tasting Notes: The color is a beautiful soft petal pink, with vibrant fruity aromas of strawberries, pink grapefruit, and cantaloupe, and a lovely floral note adding complexity. Bright, mouthwatering acidity is enticing with clean flavors to match the aromatics. It's crisp and dry, but has a candy-like impression on the palate because of the intense fruit flavors.
Tech sheet - Bottle Shot - Purchase
***
2019 Malbec - One of the 5 red Bordeaux varietals, and perhaps most famously produced in Argentina, Malbec is a less-commonly grown varietal in our neck of the woods. The small amount of Malbec grown in Napa and Sonoma is typically used in Cab-based blends. We love how velvety and juicy it is on its own! Our La Sirena Malbec is a great option for those who love our La Sirena Cab and are looking to branch out, or for anyone who loves rich, smooth red wines.
From Heidi & Remi's Tasting Notes: Deep ruby in color, with an enticing pure nose of dark fruit aromas (blueberry, blackberry, currant), accented with notes of spice, dark chocolate, and an earthy note reminiscent of bark. Across the palate it is velvety and extremely well balanced. Great acid in the mid palate keeps it bright and lifted while still being quite rich and dense.
At long last, after nearly 30 vintages and many requests from our dear customers and fans, we are so excited to finally be launching our first-ever wine club - The La Sirena Mermaid Circle. With 3 curated package options to choose from, just one automatic shipment per year, and lots of perks and exciting opportunities ahead, we hope you will join us as we begin this new chapter for La Sirena. Welcome to the Mermaid Circle!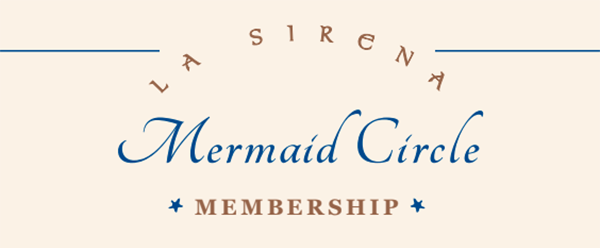 2022 Moscato Azul is available now! This cult-favorite wine is back and ready to brighten your day as we head toward Spring. We look forward to sharing this latest vintage with you.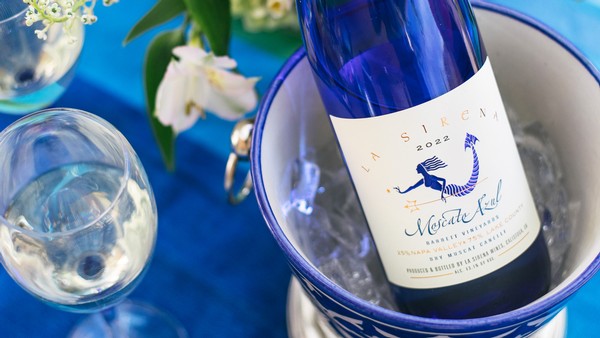 Our 2022 Moscato Azul is a gorgeous expression of this delightful, unusual white wine. All the tropical, floral, perfumed characteristics of the Muscat Canelli grape shine, while the crisp acidity and dry finish render it highly quaffable & wonderful for food pairings.
Tasting Notes: (tasted 1/10/23 by RB)
Our 2022 dry-style Muscat Canelli is a crisp white wine that is highly aromatic with beguiling tropical and floral notes. Extremely pale, almost clear white-gold in color, with pronounced aromas of lychee, jasmine, honeysuckle, and delicate white peach rising from the glass. Flavors match the aromas in a mouthfilling, lush expression of Muscat Canelli that surprises and delights with its unique dry finish. Silky, balanced and unique, this wine pairs so well with a variety of foods and is perfect poolside or while cooking dinner.
2019 La Sirena Napa Valley Cabernet Sauvignon - Since the first La Sirena Cab vintage in 1996, it has been a Napa Valley favorite, and an expression of Heidi's powerful-yet-balanced, elegant style of winemaking. 2018 was a highly acclaimed vintage, and we're pleased to share the long-awaited result with you.
From Heidi's tasting notes: "...Pronounced aromatics of dark berries and black cherry, and nuances of candied nuts, dried savory herbs, wet gravel, cedar and vanilla. Across the palate, flavors match the aromas in a velvety and mouthcoating profile with remarkable power and noteworthy finesse. Dense and concentrated flavors with refined tannins, chewy texture, and a lengthy evolving finish will make this an exciting addition to your cellar for many years to come."
Full tasting notes - Bottle shot
2018 Pirate TreasuRed - A bold, well-rounded blend of 6 red varietals - Syrah, Cab Sauv, Grenache, Malbec, Petite Sirah and Cab Franc - that shows off Heidi's blending skills in a fun, approachable, and celebratory style. It be a serious wine in a fun bottle, mateys!
From Heidi's tasting notes: "... A deep ruby red color with open aromas of ripe fruit – plums and cherries – with complex notes of savory spices, vanilla, toasted French oak, cardamom, and olive tapenade. Delicious, round, and silky smooth across the palate with seamless, layered flavors and barely-there structural tannins."
Full tasting notes - Bottle shot
We are so excited to bring back Aviatrix Grenache for its third vintage. Aviatrix is a collaboration between La Sirena winemaker/owner Heidi Barrett and her two daughters, winemaker Chelsea Barrett, and sales/marketing director Remi Barrett. Aviatrix Grenache is dedicated to the intrepid women throughout the history of aviation, who surpass society's expectations and limitations to soar to new heights. We hope you enjoy this mother-daughter collaboration as much as we enjoyed making it!
Tasting Notes: 2019 Aviatrix Grenache (tasted 8/13/22 by Heidi & Remi)
This beautiful Grenache has a delicate light ruby red color with aromas of cranberry, pomegranate, fine leather, rose petal, and just a kiss of French oak. On the palate, it bursts with flavor and classic Grenache varietal character. Lively and fresh, with noteworthy exuberance! Tannins are quite light and well integrated, resulting in a harmonious balance throughout. A wonderful medium weight red that is quite versatile with food pairings, and can be served at room temp or even slightly chilled to enjoy during the late summer heat.
We are so excited to share our first-ever sparkling wine – a Napa Valley AVA Blanc de Noir made with 100% Pinot Noir. Aged on the lees since 2016, this Brut Rose is complex, dry, and utterly delightful. It also marks the debut of our fantastic new Art Deco-inspired label (art by Ryder Richards). We hope you enjoy celebrating special moments with our latest Aviatrix adventure.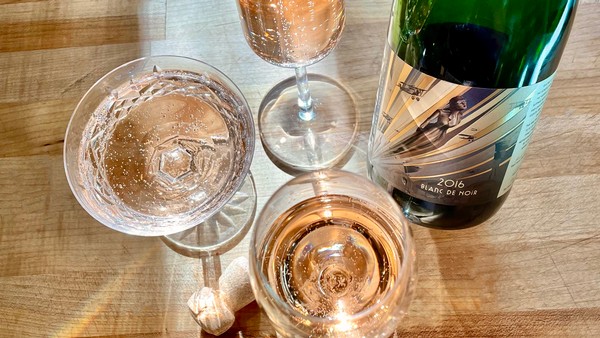 Aviatrix Blanc de Noir (Sparkling Wine) Tasting Notes: (Tasted 5/23/22 by Heidi, Chelsea & Remi Barrett)
Graceful streams of tiny bubbles illuminate the delicate salmon hue in this sparkling wine that is poised with elegance from the moment the cork is popped. Integrated and tightly knit, with clean aromas and enticing flavors of barely-ripe strawberry, pomelo, asian pear, and allspice, and a complex biscuit-like note from 5 years aging on the lees. Barely detectable dosage gives a round, creamy impression while still tasting quite dry and refreshing. Wonderfully unique, balanced, and food friendly, this sparkler brings an old-world refinement and celebratory air to any occasion!