February 3, 2023 | La Sirena Winery
New Releases: 2022 Rosato & 2019 Malbec
Two new wines are now available: 2022 Rosato & 2019 Malbec. These delicious wines are ready to please your palate and add some pizzazz to your cellar.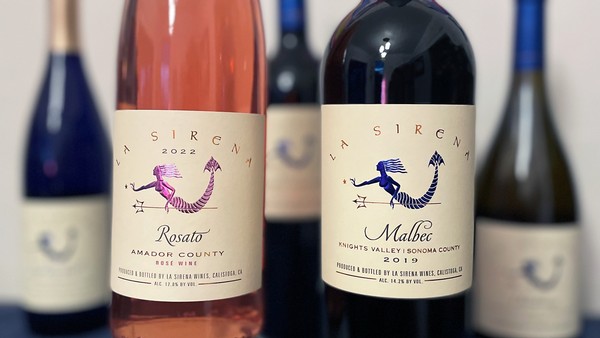 2022 Rosato - Our unusual rosé of Primitivo. A fun-to-drink, easy-to-love blush wine that's loaded with fresh flavor and a beautiful bright color. A balanced, crisp, medium-weight rosé equally suited to pairing with food or sipping on its own. We especially love it with sushi, shrimp dumplings, poke bowls, or colorful vegetable salads with a citrus dressing.
From Heidi & Remi's Tasting Notes: The color is a beautiful soft petal pink, with vibrant fruity aromas of strawberries, pink grapefruit, and cantaloupe, and a lovely floral note adding complexity. Bright, mouthwatering acidity is enticing with clean flavors to match the aromatics. It's crisp and dry, but has a candy-like impression on the palate because of the intense fruit flavors.
Tech sheet - Bottle Shot - Purchase
***
2019 Malbec - One of the 5 red Bordeaux varietals, and perhaps most famously produced in Argentina, Malbec is a less-commonly grown varietal in our neck of the woods. The small amount of Malbec grown in Napa and Sonoma is typically used in Cab-based blends. We love how velvety and juicy it is on its own! Our La Sirena Malbec is a great option for those who love our La Sirena Cab and are looking to branch out, or for anyone who loves rich, smooth red wines.
From Heidi & Remi's Tasting Notes: Deep ruby in color, with an enticing pure nose of dark fruit aromas (blueberry, blackberry, currant), accented with notes of spice, dark chocolate, and an earthy note reminiscent of bark. Across the palate it is velvety and extremely well balanced. Great acid in the mid palate keeps it bright and lifted while still being quite rich and dense.
Comments
Commenting has been turned off.