January 26, 2023 | La Sirena Winery
2022 Moscato Azul Release
2022 Moscato Azul is available now! This cult-favorite wine is back and ready to brighten your day as we head toward Spring. We look forward to sharing this latest vintage with you.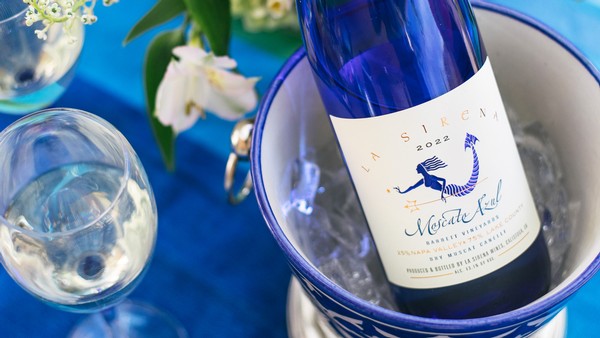 Our 2022 Moscato Azul is a gorgeous expression of this delightful, unusual white wine. All the tropical, floral, perfumed characteristics of the Muscat Canelli grape shine, while the crisp acidity and dry finish render it highly quaffable & wonderful for food pairings.
Tasting Notes: (tasted 1/10/23 by RB)
Our 2022 dry-style Muscat Canelli is a crisp white wine that is highly aromatic with beguiling tropical and floral notes. Extremely pale, almost clear white-gold in color, with pronounced aromas of lychee, jasmine, honeysuckle, and delicate white peach rising from the glass. Flavors match the aromas in a mouthfilling, lush expression of Muscat Canelli that surprises and delights with its unique dry finish. Silky, balanced and unique, this wine pairs so well with a variety of foods and is perfect poolside or while cooking dinner.
Comments
Commenting has been turned off.