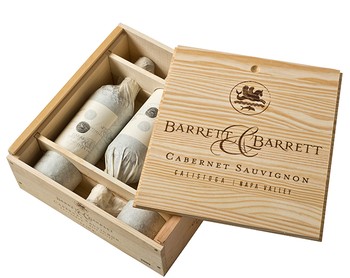 Barrett & Barrett Library Vertical 2009-2011 6pk
Includes two bottles each of the 2009, 2010, and 2011 vintages of Barrett & Barrett Cabernet Sauvignon, nestled in a wooden collector box.
All tasting notes were updated in early 2023:
2009 - Presents dense black fruit, but a bit more earthiness and Bordeaux-like character too. The aromas have an interesting masculine-feminine push and pull – there is earth and leather, gunpowder tea and a touch of black olive, but also graceful floral and spice notes too. A very complex wine that will present different sides of its character to each person who tastes it. On the palate there is slightly more intense tannin and grip, as 2009 was a riper vintage, yet it is still rich and silky. Drink now or hold 10 years.
2010 - Has evolved to be much more French in style – there is significantly more earthiness and less fruit here. The aroma presents some leathery brett along with notes of cedar, violet, oak, meatiness, and minerality. On the palate, it still has nice weight and texture and some muted cherry-berry character. We would recommend letting it evolve in the glass and revisiting a few times to see how it changes and what notes come forward. Very reminiscent of an older Bordeaux. Recommended to drink now
2011 - Perhaps the coolest vintage in Napa's post-2000 history, 2011 stands out as a softer vintage, not quite as pronounced or bold in aroma or palate. Graceful, understated, refined – a beautifully made wine from a challenging vintage. Fruit notes are cranberry, pomegranate, raspberry, with characteristics of black tea, graphite, wet stone, herbs, and a touch of chalky dust. Much lighter in texture, it has a supple feel and good weight – it opens with a restrained and lightly perfumed nose, flows gently with silkiness on the palate, and fades with a nuanced, medium length finish. It can benefit from time to open in the glass, but it is a rather delicate wine, so we would caution against aggressive decanting. Drink now or hold 3 years
Wine Specs
Varietal
Cabernet Sauvignon