2011 Barrett and Barrett Cab Sauv Magnum 1.5L
2011 Barrett & Barrett Cabernet Sauvignon tasted 11/29/14 by HPB
This is one of the stars of the 2011 vintage, fully ripe and dense from our early ripening vineyards in Calistoga. Aromas of blackberry pie, currants, roasted coffee, dried black cherries and cocoa powder. The enticing layered aromas lead to a mouth coating lush silky palate. So easy to love. Sourced from our two vineyard sites; the new block developed specifically for this wine and the original Barrett vineyard at the foot of Mt St Helena. The combination of balance, finesse and length is just delicious.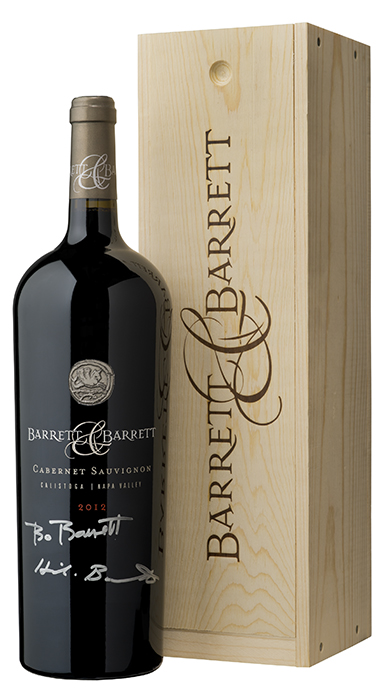 2011 Barrett & Barrett Cabernet Sauvignon tasted 11/29/14 by Bo Barrett
The first thing I like about this wine is its dark, almost black, garnet color to the edge of the glass. Not red, not purple blue, but BLACK! The black fruits are primary on the nose and show as black cherry, black berry, and fruit leather. It is rich and ripe with briar, tobacco and cocoa notes. The second thing I like is its expansive nature on the palate. It immediately opens with a "boom!", giving ripe, warm fruit and following through with lush, full flavors. The 2011 B&B is atypical for a Napa Valley 2011 Cab because these extraordinarily early ripening vineyards got fully mature. The cold growing season, especially the cold nights, keep this wine true to type with balance and distinct vineyard-driven character. This is a wine that truly shows the impact of decades of experience, the ability to adapt to each seasons' growing conditions, in a specific vineyard, with a single purpose; to make wines like this.