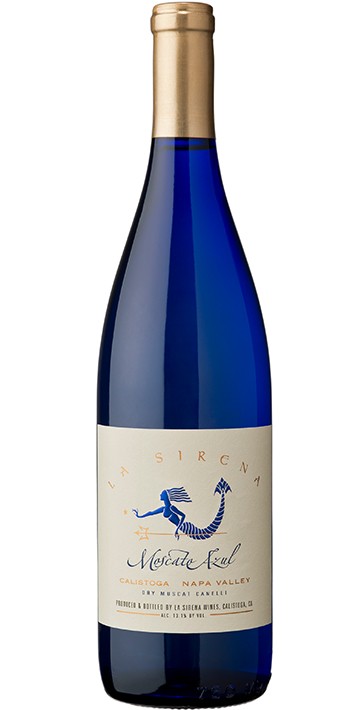 2021 La Sirena Moscato Azul
La Sirena Moscato Azul is no ordinary white wine. This is a unique dry Muscat Canelli. Most Muscat (or Moscato) is made into sweet dessert wine - but not this time. In our Moscato Azul, you have all the beautiful floral character of varietal Muscat Canelli, without the sugar. It's a delightful, fun white wine to go with an assortment of tropical, citrusy, or Pacific Rim type foods. Just chilled on its own, it is also wonderful as a casual sipping wine to share with friends. This wine is best consumed in 1-2 years, enjoyed fresh and fruity (not a wine to age in your cellar).
Our 2021 Moscato Azul is a crisp white wine that is highly aromatic with beguiling tropical and floral notes. Pale straw in color with perfumey aromas of lychee, honeysuckle, white peach, and honeydew melon. Flavors match the aromas in a mouthfilling, lush profile. Silky, balanced and unique, this wine pairs so well with a variety of foods and is perfect poolside or while cooking dinner.
Bottle shot & Tech sheet