2012 Barrett and Barrett Cab Sauv 3pk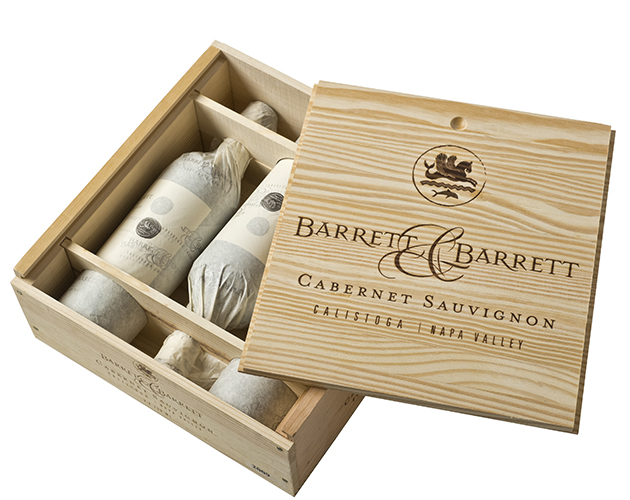 2012 Barrett & Barrett Cabernet Sauvignon tasted 10/30/2015 by Heidi Barrett
"This 2012 is a blockbuster powerhouse wine from this vintage. Aromas are deep, ripe, and intense with pure berry jam, lush black cherry, and layers of toasty sweet French oak. Explosive flavors follow the amazing aromatics. Just a delicious big lush mouthcoating wine. Our early ripening Calistoga vineyards served us well once again since the Barrett and Barrett blocks carry such a light crop. The typically low yielding vines produce tiny concentrated berries which result in this very cool dense and delicious Cab. It's the best possible combination blend of balance and finesse, purity of character, amazing length, and age worthiness. Don't miss it!"
2012 Barrett & Barrett Cabernet Sauvignon tasted 10/30/15 by Bo Barrett
The wine is opaque dark color, almost black to the very edge; The aroma is concentrated earthy-berry, smoked spices, like a block of fancy black tea coated with black cherry and cassis syrup. An instant mouthful of fat fruit, lush throughout and a solid enduring richness and balance. Lots of good tannin grip and superbly acid balanced. A very classic "sun grown" Cabernet. Impressive palate focus and authority with rich fine polished structure.
Recent notes from Antonio Galloni of Vinous:
97 points - "The 2012 Cabernet Sauvignon is fabulous. Rich, racy, and totally voluptuous in the glass, the 2012 flows with seemingly endless layers of fruit. This is a decidedly dark, powerful brooding 2012 Napa Valley Cabernet Sauvignon endowed with real class. Dark cherry jam, wild flowers,gravel, mint and dark spice meld into the unctuous, riveting finish."
Wine Specs
Varietal
Cabernet Sauvignon