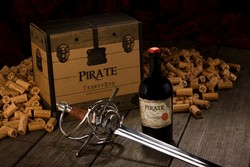 2010 Pirate TreasuRed, Napa Valley 6pk
Sold Out! Next Release Coming Soon!
Using seven varieties, the "treasure of the seven seas" is a blend of Cabernet Sauvignon, Syrah, Merlot, Petit Verdot, Cabernet Franc, Grenache, and Petite Sirah. Pirate TreasuRed will arrive properly in a six-bottle treasure chest box. The bottles resemble rum bottles with the label an old map of the Napa Valley. The wine is bold and Cab-like with the other varietal flavor profiles overlapping, showing off the magic of the blend.
---