Winery History
With the incredible success of La Sirena one might think the idea for the brand was a well thought-out plan; a plan that was as deliberate and calculated as every other winemaking detail in Heidi Barrett's portfolio. Heidi would tell you otherwise. "It was a fluke opportunity. The first wine I made for La Sirena started as a custom crush wine for a client. The client hired me to make Sangiovese for a new brand, but ran into a conflict of interest situation with their family, who had other winery ties. The wine was already made and quite delicious, yet the client had to abandon the project. They were going to put this beautiful wine on the bulk market and I thought, "Here's my chance to start my own winery, maybe I could buy it!" So, I had the wine and I needed to come up with a winery name, design a label and get approval and permits, etc. all within a 30 day time period. The wine was ready to bottle so time was of the essence."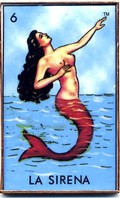 "My husband Bo and I found the name while looking through the playing cards of the Mexican card game called Lotteria. All the cards are different nouns and one was La Sirena- the mermaid! We are both big scuba divers and ocean lovers and here was this great symbol of something magical, like wine, that was a way for me to combine two great passions. So began La Sirena in 1994 with that serendipitous harvest of Sangiovese. La Sirena, which means "the Mermaid" in both Italian and Spanish, was born."

A couple years later in 1996, Heidi decided to focus the project on the varietals she is truly passionate for rather than wines that came along by happenstance. Cabernet Sauvignon was the obvious choice since she is best known for her amazing track record with this "king of red wines". As the Sangiovese was fazed-out after the 1999 harvest due to a grape contract loss, La Sirena added Syrah as its second red varietal. Heidi had always had a passion for wines from the Rhone Valley and thought Syrah could be quite special grown here in California. This interest led to making not only a delicious Napa Valley Syrah but also a tasty Santa Ynez version, showing off what Syrah can do in a cooler climate. Eventually a third Syrah was added, designated "Barrett Vineyards", from her own 2-acre vineyard at the foot of Mt. St. Helena. "The wine was just too distinct to blend into the Napa Valley Syrah and such a stand out lot deserved to be its' own blend" said Heidi.


Always wanting to experiment and try something new going forward, Heidi decided it would be fun to make a dry style Muscat. Challenged by the idea that there were dry Rieslings and dry Gewurztraminers in the US, but no dry Muscat, she first pondered "Why doesn't anyone make this?", and secondly questioned, "Why couldn't you?", and finally stated, "I think I'll do it!" Muscat is such a beautiful fragrant variety that makes a delicious, unique, and fun white wine encompassing all the perfumey, floral qualities of the grape, without the sugar. La Sirena introduced the first tiny, 122 case production of Moscato Azul to the market in 2003. We now make around 500 cases a year of this beautiful white wine in a cobalt blue bottle finished with a blue cork!

The winery today focuses on making three varieties: Cabernet Sauvignon, Syrah, and Muscat Canelli. All the wines are hand-made, small production lots made with great care with the highest quality in mind. Heidi Barrett is the owner and winemaker who built her reputation for making some of the worlds' best wines during a 30-year career.